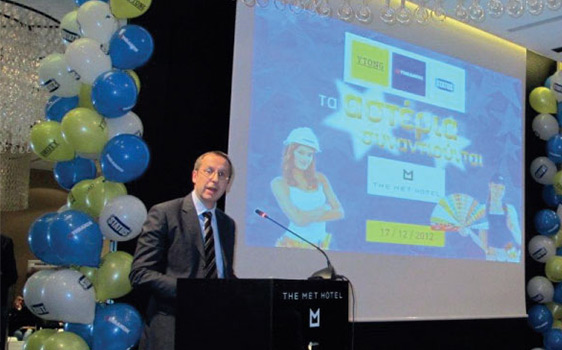 On December 19th 2012, at the INTERCONTINENTAL Hotel in Athens, Thrakon announced the acquisition of CARMYCO in the presence of our partners in Southern Greece.
This strategic decision strengthens the position of both the Group and Carmyco in Greece and abroad, as it offers greater possibilities of providing integrated services, as well as synergies in terms of production and sales. The already extended range of Group products from then would also include paints (emulsion, acrylic, ecological, etc.), adhesives (wood, shoe, leather, etc.) and varnishes.
THRAKON Group continues to expand its activities in Greece. Having invested over 15 million euro during the last 3 years, our investor shows his constant dedication and confidence in our country.
The Group shareholder Mr. Jon Sjoborg, despite the strong economic recession that Greece faces since 2009, supports our economy with foreign capital investment. In that regard, the Group, with the support of its shareholder, will continue its investment activity, focusing on improving production facilities and demonstrating the Group commitment  to more environmentally friendly production processes.